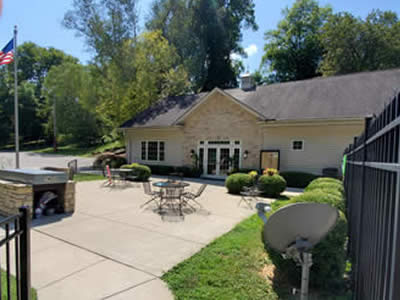 The City of Brownsboro Farm has an 11 acre park system, about one eighth of the city's area, making it unique among suburban cities. The south end of the park, accessible from Cascade Road, is devoted to recreational facilities and the Community Center and Pool. The playground area, all weather tennis/pickleball court, a four lane 25 meter swimming pool, cookout patio, volleyball and badminton courts are the park's main attractions. Hidden in a valley of aging hardwoods lies a quiet nature park far from the busy noise of life's bustle, yet within walking distance of half century old homes. This lovely family estate, built in the 60's boasts a nature park with over six thousand feet of private walking paths for residents and their guests, and always there are those awesome views. A watchful eye will be rewarded with sightings of red-tailed hawks, pileated woodpeckers, white-tailed deer, squirrels, rabbits, and many, many more of nature's delights.
The park is open year round from dawn to dusk to all residents of Brownsboro Farm and their guests. Families who use the pool must register annually to join and pay and annual usage fee. The pool is open from Memorial Day to Labor Day. Residents 18 years and younger are welcome to join the swim team, The Marlins. Swimmers practice during the week and have swim meets against other local teams in the Louisville Swim Association. Swim meets occur weekly during June and July and end with championships in mid-July. A banquet for the swimmers is held at the end of the season and the proud swimmers all go home with trophies and a strong sense of achievement. The pool is also available for private parties for a small fee.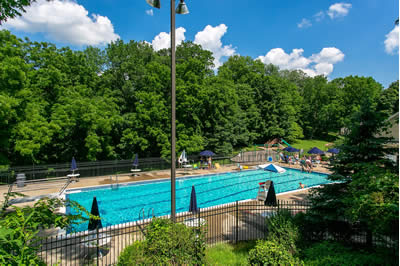 The city Community Center at the entrance of the pool is the focal point for the city and our park system. This facility may be rented for private parties as well as being used for city functions and social gatherings. Contact the Community Center Manager for details. Residents do not have to be a pool member to use and rent the Community Center and patio.